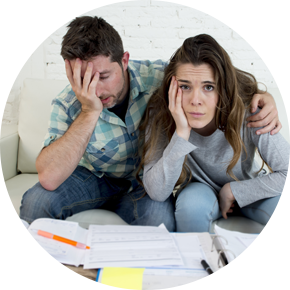 Avoiding Your Tax Debt is a Prosecutable Felony
Ignoring the IRS may be very costly: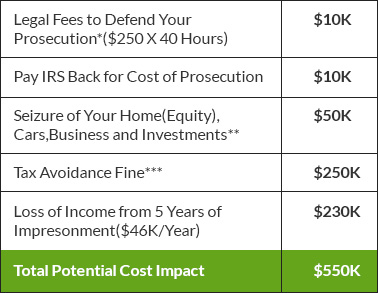 Individual results may vary based on ability to save funds and completion of all program terms. Program does not assume any debts nor provide legal or tax advice. Read and understand all terms prior to enrollment. Not available in all states. Sources: ExpertLaw.com*, Bloomberg**,IRS**, Social Security Administration****
The Internal Revenue Service exists to collect what is owed to the government, and it employs tough methods to collect. If you receive a letter from the IRS, don't ignore it. The agency can garnish your wages, repossess your car and even foreclose on your house if you ignore them.

For many people, neglecting to pay taxes on time often leads to a downward spiral of a bottomless debt. The accumulation of penalties and interests seem to make the existing balance almost impossible to pay off.

There's no rest or peace when you owe money to the IRS, so settle with them and get on with your life. The process and outcome are usually better than expected when a negotiator steps in to help.

What to expect from your tax negotiator:


Assessment of your tax issues
A negotiator will assess your tax debt and finances and recommend a course of action. Depending on how much you owe and your financial situation, there are usually several avenues available to put your tax issues to rest.


Managing all IRS communications
Your negotiator will communicate with the IRS and handle the paperwork. Most people don't know what they should or should not disclose to the IRS. Your negotiator will know exactly what to say to IRS agents.


Advice on avoiding future tax debt
Your negotiator will be familiar with your tax debt issues and financial situation. He or she will offer advice on how to avoid tax problems in the future.